NDDA(Noval Doon Defence Academy) is the independent and the best defence coaching institute. We don't claim that we are the Government Agency. We provide complete grooming to aspirants who appear for examination for NDA, CDSE, AFCAT, ARMY-CLK/GD, NAVY-SSR/AA/MR, AIR FORCE-X & Y Group and Merchant Navy.



NDDA's motto is Service Before Self. NDDA provide quality education and mentorship. A better future starts here.
CDSE
Combined Defence Services Examination (CDS) is conducted by UPSC to recruit entry level officers in Indian Military Academy, Indian Naval Academy, Indian Air Force Academy and Officer's Training Academy. It is conducted twice a year as CDS-I and CDS-II.
Exam Name: Combined Defence Services Exam
Conducting Body: Union Public Service Commission
Official Website: upsc.gov.in
Exam Frequency: Twice a Year
Exam Type: National Level Recruitment Test
Eligibility Criteria: Bachelor's Degree
Mode of Application: Online
Exam Mode: Offline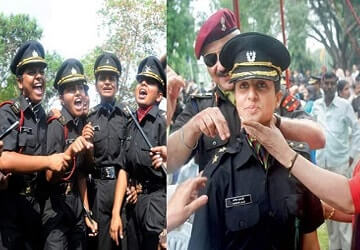 Nationality
Candidates must be citizens of India.
Subjects of Bhutan, Nepal, Tibet, Burma, Sri Lanka & various East African Countries are also eligible.
Candidates will have to produce a certificate issued by authorities of Government of India certifying the claim.
Age Limit
Upto 24 years.
Marital Status
Candidate must be unmarried to apply for IMA, INA & AFA.
Exemption is given to male applicants at OTA.
Issueless widows, unmarried women, and divorcees can apply for OTA.
Physical Standards
Candidates must be physically fit according to physicals standards for admission to Combined Defence Services Examination as per guidelines.
Educational Qualification
The eligibility criteria differ post to post. Candidates are advised to check the eligibility before applying for the post they are interested in. Candidates who are pursuing final year/ semester of their Degree course at present are also eligible to apply for CDS Exam on a provisional basis.
1. Bachelor's degree from a recognized university is necessary for Indian Military Academy(IMA).
2. Bachelor's degree in Engineering/Technology from a recognized university or equivalent is necessary for Indian Naval Academy(INA).
3. Bachelor's degree in Engineering/Technology from a recognized university or degree from a recognized university with Physics & Mathematics as subjects for Air Force Academy(AFA).
4. Bachelor's degree from a recognized university/equivalent for Officers Training Academy(OTA).
5. Bachelor's degree from a recognized university for Officers Training Academy.


Exam Pattern
CDS will be conducted in pen and paper based mode. The exam will be conducted in two sessions ( morning and forenoon).

CDS question booklet will consist of multiple choice questions as per the prescribed syllabus.
Written test will be of 300 marks.
The written test for admission to OTA will be out of 200 marks.
CDS will be for duration of 2 hours.
Marks will be deducted for every wrong answer.
The exam will comprise questions from English, Elementary Mathematics, and General Knowledge.
The difficulty level of the papers in Elementary Mathematics will be of Matriculation level while the difficulty of papers in other subjects will be of a graduate of an Indian University.




Syllabus
The syllabus of CDS will be prepared by UPSC. The syllabus helps the candidates while their preparation for exam by concentrating on the particular topics Candidates must try to cover the whole syllabus. Here, we are discussing the important topics from which questions have been asked in the previous examinations.

English Syllabus – Antonyms, Synonyms, Para Jumbles, Reading Comprehension, Error Spotting, Sentence Correction, Jumbled Sentences, & Fill in the Blanks.

General Knowledge Syllabus – General Knowledge including knowledge of current events in various fields like science and technology, politics etc. The paper also includes questions from static GK based on History of India and Geography of a nature.

Mathematics Syllabus – Algebra, Arithmetic, Geometry, Trigonometry, Mensuration & Statistics.